You are here:
PRODUCTS
>
ALL-IN ONE
>
RADIO
>
AI
Artificial Intelligence (AI)
The automation of the RADIO solution is based on Artificial Intelligence (AI) that chooses the most appropriate camera and the view angle (Preset) for the audio detection (Console). It uses the Preset information such as:
Rating: The preferred plan has 3 stars. Its use will have priority over the others.
Angle: Close-up, Medium, Large, Beauty. The engine uses specific angles to vary the filming. For example, it avoids two medium shots being shown one after the other.
Camera: The engine must pass to a shot with another camera in order to avoid showing preset recalls on air.
Micro: Obviously the most important piece of data. The engine will always choose a preset that covers the microphone detected.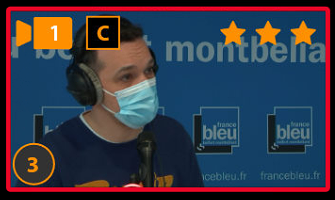 The camera switching speed depends on the dynamism value, from 0 (slower) to 10 (faster) :

You can look at the decisions made by the AI on the Live interface by clicking on AI STATUS :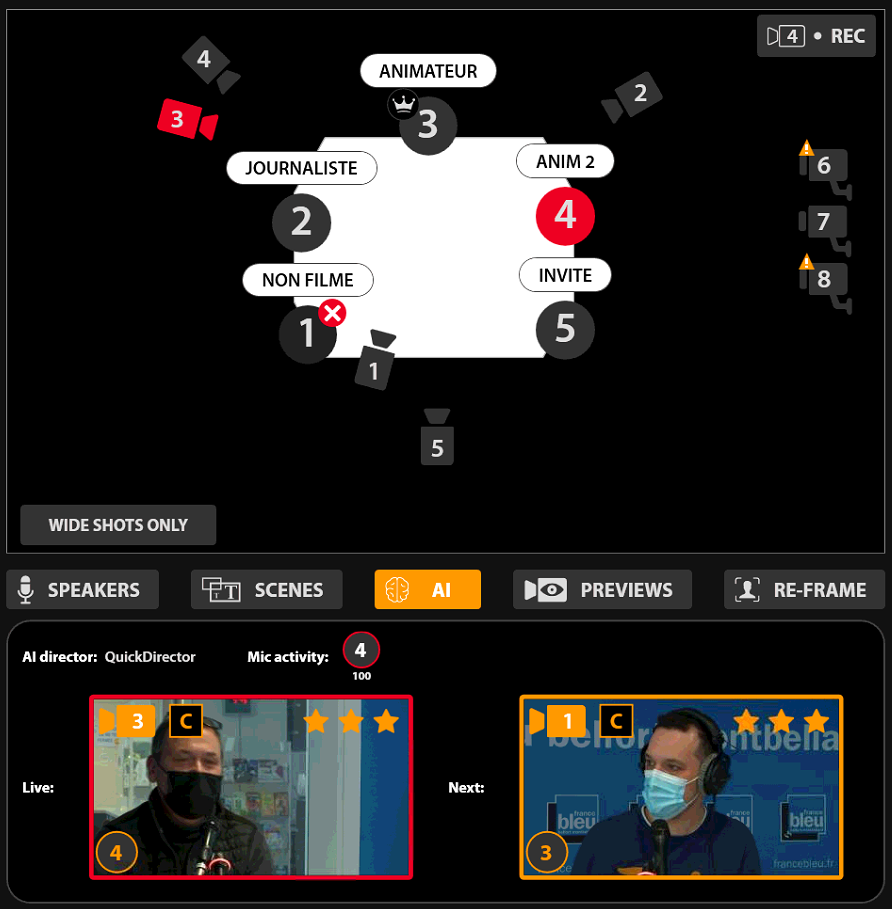 You can then see which microphones have been detected and the online preset (Live), as well as the following preset in preparation (Next).
Here are default values :
DIVERSITY TIMINGS:
1: 30 / 2: 20 / 3:15 / 4:12 / 5:10 / 6:8 / 7:5 / 8:3 / 9:2 / 10:1
REACTIVITY TIMINGS:
1:6 / 2:4 / 3:3.75 / 4:3 / 5:2.5 / 6:2 / 7:1.25 / 8:0.75 / 9:0.5 / 10:0.25
SCORES:
Limits:
Min:0 / Max:1000
Initial scores:
Large shot:100 / Medium shot: 200 / Close-up shot: 150 / Beauty shot: 80 / Combo shot: 300 / Wide angle shot: 50
Score reduction on take:
Solo: 40 / Beauty:20 / Combo: 30 / Wide angle / 20
Score increase on take:
Any: 5
Bonus/malus:
Bonus per star: 50 / Malus for same type: 50 / Bonus for last change: 200 / Malus for no recall: 50
AI works with a system of scoring for shots. Some angle of shots have a higher score, that means higher chance to be selected by AI. The score evolves everytime to offer diversity. For instance, a shot used recently, will be less used later (score reduction on take). Reactivity and diversity are directly related to dynamism value. A Bonus/malus system will add additional scores depending of conditions like stars or similar angle of shot values.