You are here:
PRODUCTS
>
ALL-IN ONE
>
INSITU
>
Live Streaming
Live Streaming
In fact, the Streaming profiles must be created beforehand via the SETTINGS (See Live Streaming configuration).
Choice of Streaming profiles
Click on

to open the interface for managing the Streaming profiles.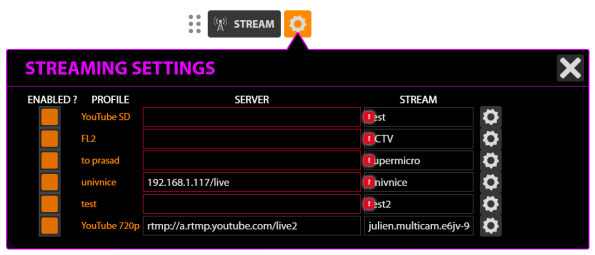 You can see the list of profiles available.
Start the broadcast
When you start the Live Streaming by clicking on

, only the engaged profiles (ex.: ENABLED checked) shall be taken into account.
The chips on the side indicate the number of ongoing streams.
If you would like to create Facebook Live broadcasts on different Fan Pages, create different profiles for each. The multiCAM API allows you to trigger a Live Streaming with specific profiles.
Depending on your system (IP or SDI version), you can only launch a limited number of streams simultaneously. Please read the specifications.
Stop the broadcast

Click on

to stop the broadcast for all active profiles.