Easy to use, turnkey packages
multiCAM offers a wide range of all-in-one solutions for live video production. We've designed all our solutions to meet the specific needs of each user, with advanced functionality and perfect ergonomics.
Choose the system you need, based on the resources you have available to operate the solution. For example, radio stations can opt for multiCAM RADIO, which enables fully automated Visual Radio production, so you don't need to have a video technician on hand. Thanks to the multiCAM ASSIST additional licence, you can easily adapt the graphics of a radio program to transform the content into a real TV program.
Or are you a local authority and need to broadcast your debates publicly? Then multiCAM CONF is the system for you, with its automated workflow, or the multiCAM STUDIO version (manual mode), which allows even non-technical staff to retain control without having to invest in technical training.
For the education sector, multiCAM TRACKING lets you provide an immersive learning experience thanks to automated or semi-automated operation, without having to worry about how the video system works.
The multiCAM INSITU is the perfect tool for simulation centers. The system allows users to capture multiple video sources from different angles to realistically and clearly train students in a variety of scenarios, then debrief them using the captured video support.
Whatever your requirements, multiCAM can meet them!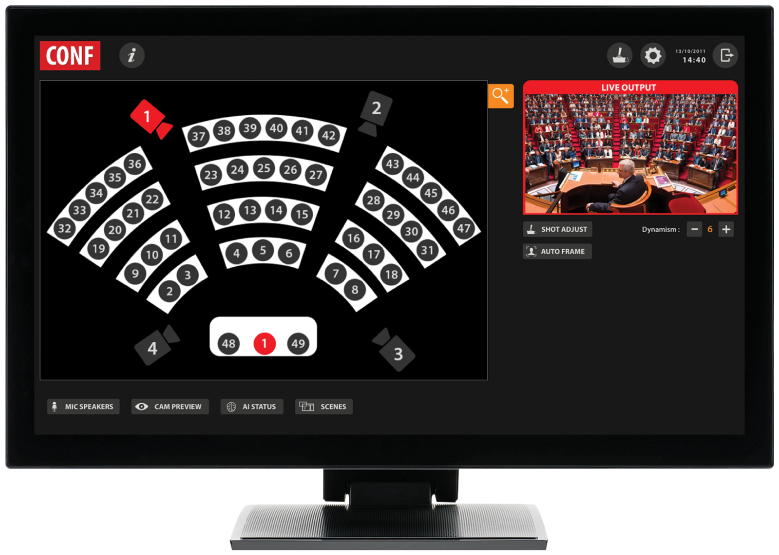 FULLY AUTOMATED CONFERENCE CAPTURE
The multiCAM CONF uses artificial intelligence to produce video integration with an audio conferencing system. The solution can be easily integrated with all major conferencing systems, including audio.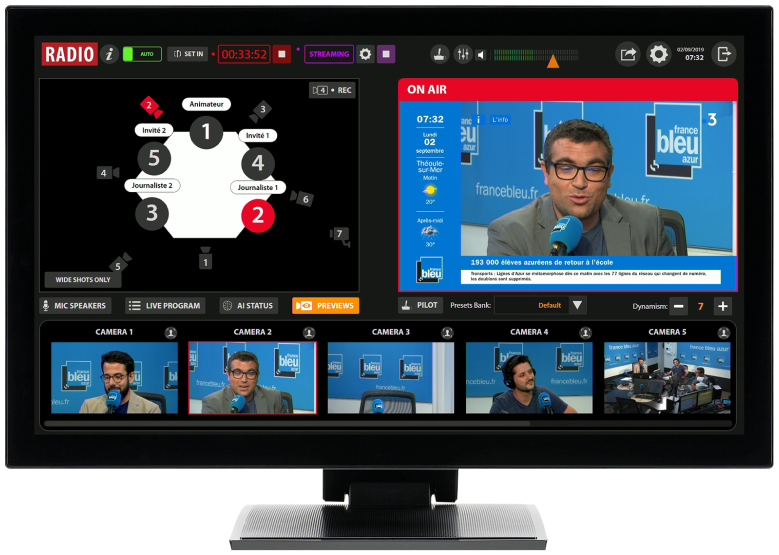 FULLY AUTOMATED VISUAL RADIO
multiCAM RADIO uses artificial intelligence to produce video using audio detection. Used by over 100 radio stations worldwide, our visual radio solution integrates easily with audio equipment such as audio consoles and automation software.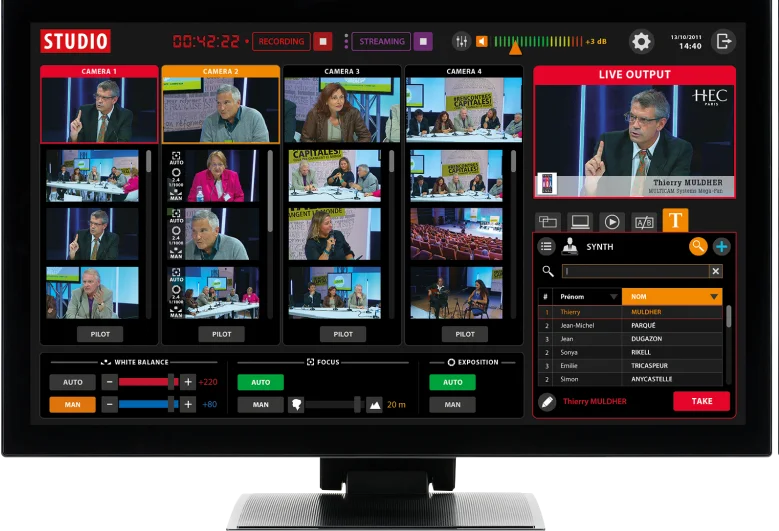 LIVE EVENT VIDEO BROADCAST
The multiCAM STUDIO easily and cost-effectively produces videos of live events. The system requires just one person, even non-technical, to manage the entire operation and send the feed to video platforms.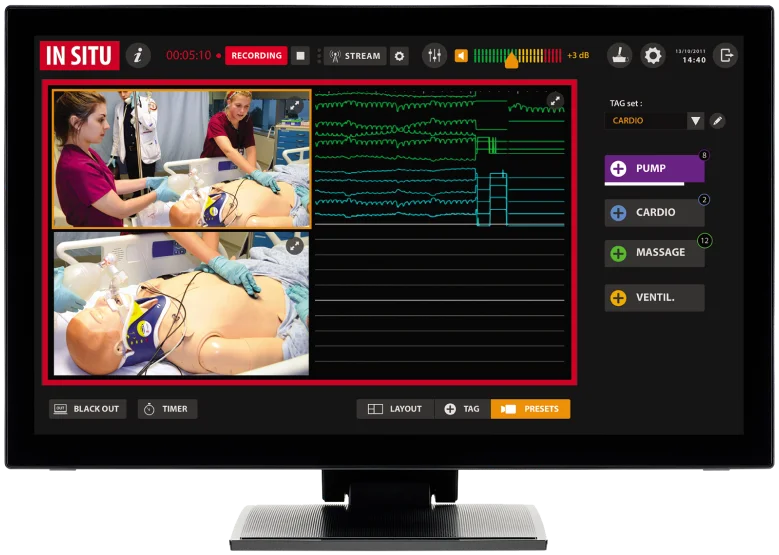 VIDEO TRAINING, INSTANT DEBRIEFING
multiCAM INSITU creates videos in chapters for a quick and efficient debriefing session. It's simple and intuitive, so instructors can stay focused on training without having to manage the system.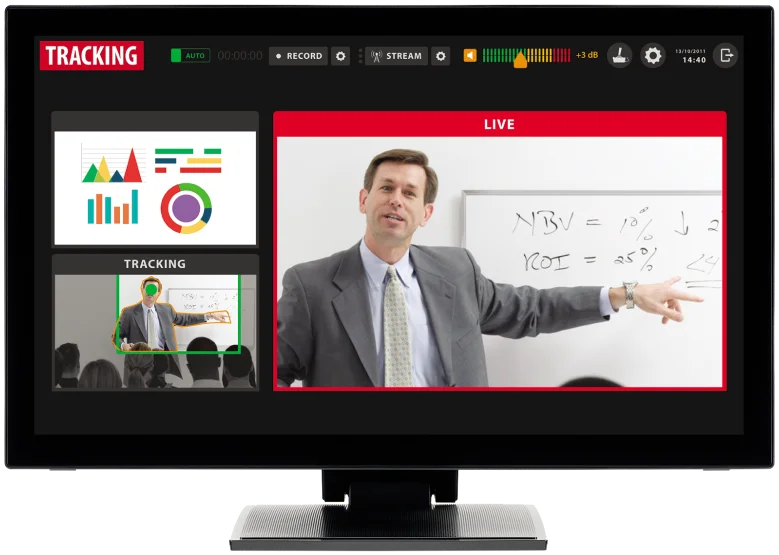 SIMPLIFIED & AUTOMATED LECTURE CAPTURE
multiCAM TRACKING uses image-based tracking functions to create dynamic video. The system features automatic slide detection, and thanks to the use of advanced AI-based switching capabilities, it offers a variety of shots and camera angles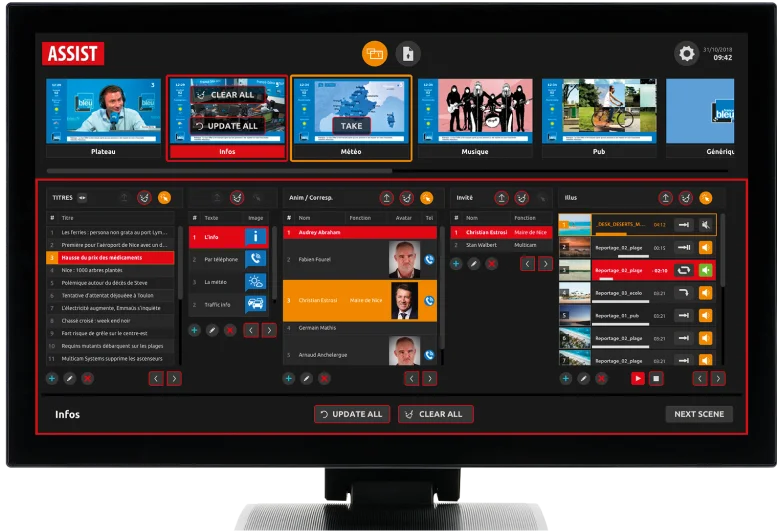 MANAGE GRAPHICS, ORCHESTRATE THE SHOW
A perfect addon for STUDIO, CONF or RADIO solutions. multiCAM ASSIST is a second screen interface giving you complete control over graphics. Become the show's orchestrator !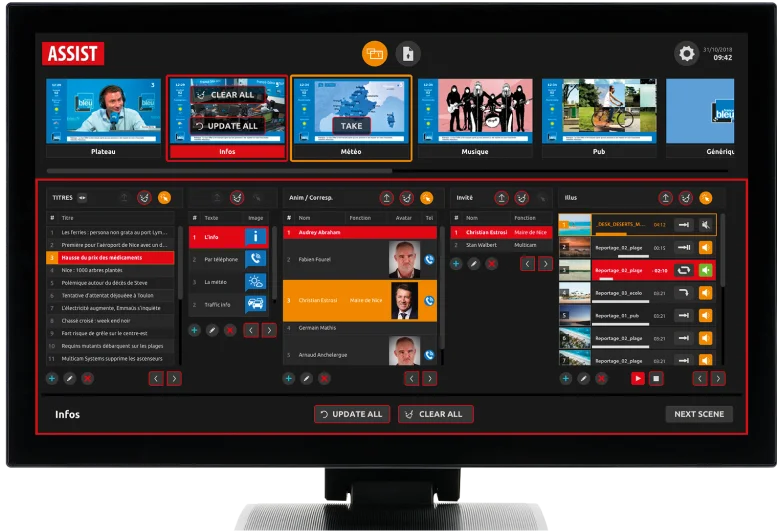 REMOTE GUESTS PROFESSIONAL SOLUTION
Let your guests and talent join the show from anywhere. All they need is a laptop or a smartphone. No app required, your remote guests can join your show with broadcast-quality video & audio.
Slide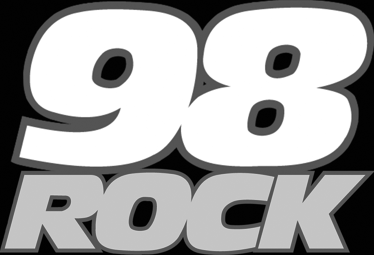 Slide





Slide