Connections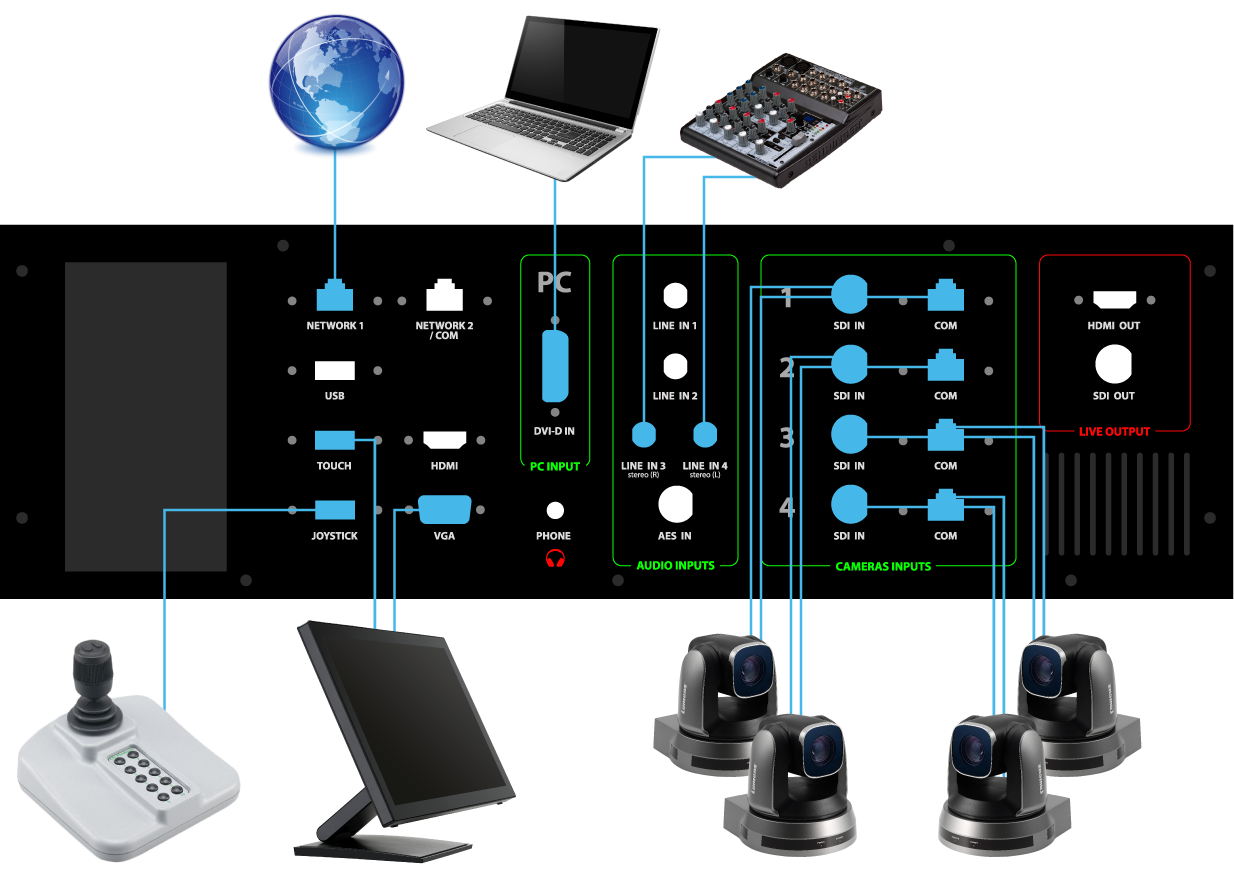 Cameras
The cameras must be connected to inputs 1 to 4, identified in the "CAMERA INPUTS" area.
STUDIO, RADIO, CONF and INSITU accept up to 4 video sources
E-LEARNING and TRACKING are designed to work with 2 turret cameras and a computer source (CAMERA INPUTS 1 and 2 + PC INPUT).
In the case of turret cameras, two cables must be connected between the camera and the system:
SDI IN: for the video signal (SD or HD) via a BNC cable.
COM: this is the serial port used for the camera's data inspection (VISCA IN on the camera)
Every camera must also be electrically powered via its AC adapter.
With the MULTICAM ALL-IN-ONE cable, one cable gathers the video signal, the control and the power.
You can also connect hand-held cameras to any SDI input on the system.
Touch Screen
The touch screen must be connected to the controls by two cables:
VGA SCREEN: VGA cable for the display,
USB TOUCH: USB cable for the touch control protocols.
Connect the power cord to a 220V power socket.
Sound
You can connect your different audio sources (HF lapel microphone, HF hand-held microphone,...) via 2 mono line inputs (LINE IN 1 and LINE IN 2).
You also have a stereo input: LINE IN 3 (Left Channel) + LINE IN 4 (Right Channel), as well as a digital input AES.
It is also possible to recover sound via the SDI inputs if the signal is embeddedUn signal embarqué (ou embedded) est un signal transportant à la fois de la vidéo et de l'audio. Cela peut être via un câble SDI ou HDMI..
The audio inputs are not powered, therefore you cannot directly connect the wired microphone.
Computer source
Generally via a laptop, you can integrate the video sound signal (DVI-D IN) or VGA/HDMI via the supplied adapters.
To recover the sound from the computer, use the stereo audio input.
The majority of video projectors (VP) have a LOOP function (MONITOR OUT) which allows you to recover the incoming VGA signal. In this case, link the laptop directly to the video projector then link the VP's VGA output to the system. You can also opt for a VGA splitter, in order to double the signal.
Other devices
In addition to metre displays, you can control the audio mix with a pair of headphones, via the socket PHONE.
The Local network or Internet must be connected to the socket NETWORK 1. Verify the network settings to set the IP address according to your network configuration.
You have 4 USB3 ports at the front of the case to connect external disks. You may also notice that the touch screen has USB ports on the side.
On screen transmission
You have two connections to stream the project: SDI OUT and HDMI.