MEDIALIST
The MediaList allows you to create, organise and play with the media (images or videos) to enrich the project.
The MediaList allows you to manage any type of video launches: video loop, generic introduction, playlist of video subjects, etc...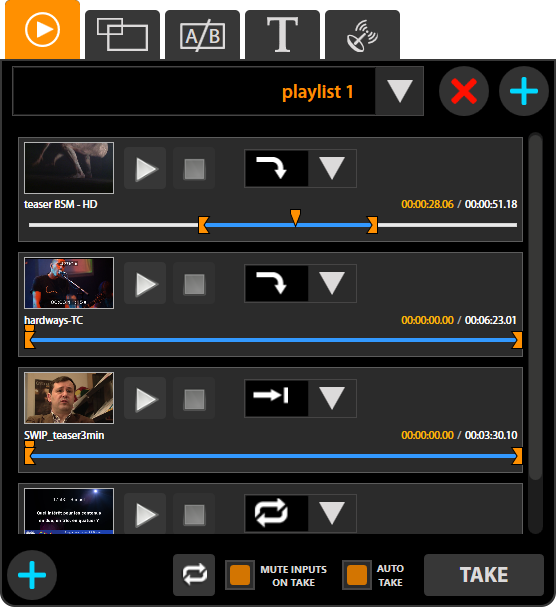 The MediaList is based on the FFMPEG library, therefore allowing compatibility with a large choice of video formats.
The MediaList can be included in a Composition (cf. COMPOSER)
You can save different MediaLists as well as organise your content. See Management of MediaLists
Add a Media
Click on

, in the lower left-hand side. The File Browser will open to allow you to choose a file.
Media Properties

Video Launching
Every Media has Playback

and Stop

controls.
Depending on the AUTO-TAKE option, these controls will act on the on line availability of the Media in the Live mix.
Playback modes
You have 3 playback modes per media, in order to define the action to be processed at the end of the playback
will read the following media on the list
will switch to the last camera used
will loop the media
The MediaList can also be looped. At the bottom, click on

to activate the list's loop mode.
Video editing
You can modify the input and output points of a video playback (Trim Video), in order to play just one part of the whole video.
Slide the terminals

and

to define a playback segment.
Media options
Selecting a media, clicking on the text allows you to access the options:
Delete
Arrange
Setting on line
TAKE
Click on

to directly transfer onto the MediaList and start the playback, starting with the selected media.
Click a second time on

to stop the playback and transfer to the previous on line source.
AUTO-TAKE
The engaged

option, the Media playback will automatically start the switch (TAKE) to the MediaList.
Click a second time on

to stop the playback and transfer to the previous on line source.
MUTE-INPUTS
The engaged

option, all audio sources will be muted during the Media playback.