TRANSITIONS
Transitions allow you to switch between two sources with a transition animation, instead of the traditional Cut.
You have 2 types of Transitions:

FX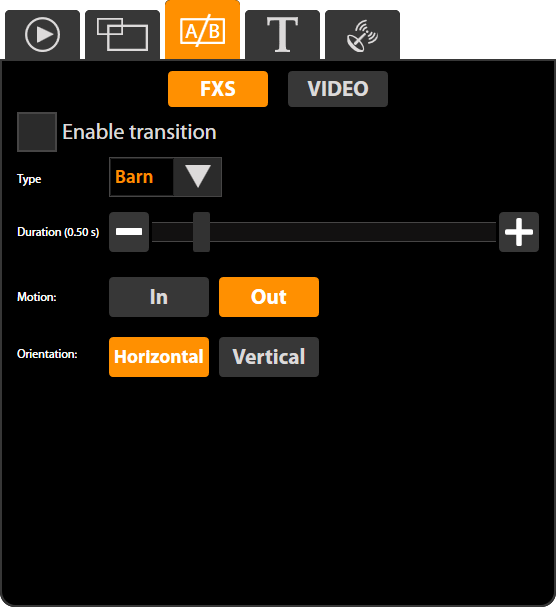 These are the transitions by effect. The list is complete.
Each effect shows a series of settings, allowing you to personalise them according to the expected result.
You can also personalise the duration of the transition.
Check

to activate the transition for each source switch.

VIDEO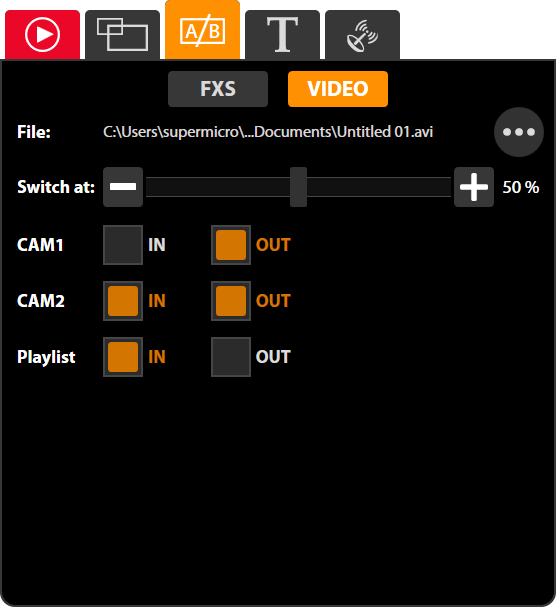 These are video transitions with an alpha channelInformation de transparence contenue dans une image ou une vidéo, permettant ainsi de l'incruster sur une autre..
This type of transition is generally used for a video item launch or for a slow motion playback source, as is often the case for a sport capture. This is known as an interval.
Click onto choose the video media.
Adjust the Switch at moment at a specific moment in the video. It is generally at this moment that the video is completely opaque in order to recover the switch.
The choose the transition launch events, input (IN) or output (OUT) function of a source in the programme.
For example, to play the transition video between cameras 1 and 2, check CAM1 OUT and CAM2 IN.